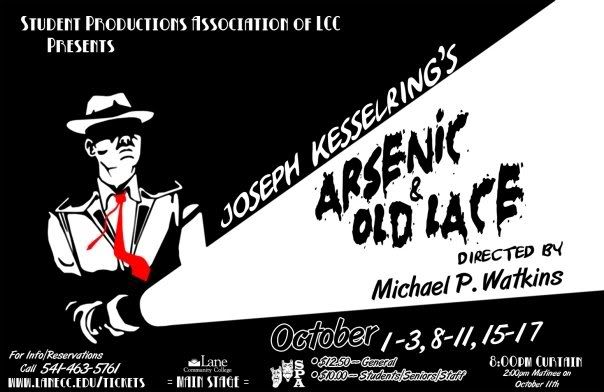 The Student Production Association of Lane Community College presents the classic Joseph Kesselring comedy Arsenic and Old Lace on the Main Stage of the Performance Hall at Lane Community College; directed by Michael P. Watkins.
Arsenic and Old Lace opened on Broadway on January 10, 1941; providing much-needed comic relief to New Yorkers fearful of the war raging in Europe. The play revolves around two spinster aunts and their innocently sinister way of helping lonely old men seeking lodging in their home find peace. A review in Theatre Arts Magazine at the time called Arsenic and Old Lace "the ultimate in the genre. Arsenic and Old Lace lives up to its beguiling title and succeeds in turning homicide into side-splitting farce." The play continued on Broadway for 1,444 performances. It was such a hit in London that the English lined up for tickets during the London Blitz. In 1944, Arsenic and Old Lace was made into a hit movie starring Cary Grant.
Arsenic and Old Lace opens Thursday, October 1 on the Main Stage in Lane's Performing Arts Hall, which was renovated this summer with new seating. Performances continue on weekends through October 17. Curtain is at 8:00pm. A Sunday matinee is scheduled on October 11th at 2:00pm.
Tickets for the show are $12.50 for Adults, $10 for Students. Tickets may be reserved by calling the Student Production Association office at 541-463-5761; purchased at the door or in advance at
Lane's on-line box office.