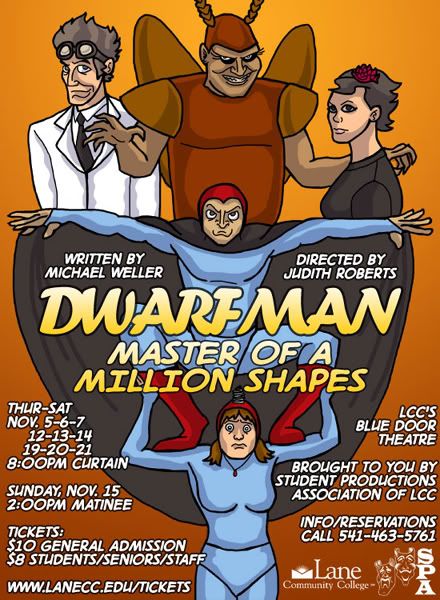 The Student Productions Association of Lane Community College will stage Dwarfman, Master of a Million Shapes, a comedy in two acts by Michael Weller.
Performances are in the Blue Door Theater at L.C.C.'s main campus, Thursday through Sunday, November 5-6-7; 12-13-14; and 19-20-21. Curtain is at 8:00 P.M. There will be one matinee, Sunday, November 15 at 2:00 P.M.
Tickets are $10 for general admission; $8 for seniors, students and staff.
November 12, 13, 14, 15 bring 3 cans of food and get in for $5! (Food will be donated to Food for Lane County)
For more information and tickets, call 541-463-5761, or purchase tickets online at www.lanecc.edu/tickets.
Audience members must be age 10 or older.
Dwarfman is an unpublished work, produced only twice before - at Chicago's Goodman Theater, and in 1995 at Eugene's Lord Leebrick Theater (which had in the cast both artistic directors, Randall Lord and Christopher Leebrick.)
due to his constant pressure to meet deadlines, create a new villain, pay child support, and attend to his lawyer wife, who is pregnant. As he loses his grip on reality, his wild and hapless cartoon characters come alive to help and plague him. They include Stanley's alter-ego, the superhero Dwarfman and his partner Elektra, mad scientist Dr. Azabov, and the formidable Roach King. In the midst of Stanley's desperate search for his own identity, he retreats to a remote cabin in Maine, where his dead father pays him a visit.
Assisting in the production of Dwarfman is a team of accomplished theater professionals. Director Judith Roberts says, "It's exciting that our students are able to work alongside these generous creative artists. Such an experience catapults the students to the next level of their craft."
Michael Weller is renowned for his plays Moonchildren and Loose Ends and the screenplays for Ragtime and Hair. He is founder/director of a program for young playwrights in New York, which each year produces several of the new works professionally. Mr. Weller has been in Eugene as a guest artist at the University of Oregon and L.C.C., and he plans another visit during the run of Dwarfman.
Chad Kushuba makes his local acting debut as cartoon-artist Stanley Dorfman. Before his recent move to Eugene, he was the artistic director of The Abreact, a cutting-edge theater group in Detroit, Michigan.
The comic-book hero Dwarfman is played by multi-talented dancer/choreographer Marc Siegel. He is the co-director of Dance Theater of Oregon, and has been a frequent guest artist at L.C.C.
The cast also includes community actor Don Aday, and students Rhiannon Catalanello, Steven Coatsworth, Kyle Cooper, Rhea Gates, Andrew Ghai, Adam Leonard, Donna Wyrick, Mark Mullaney and Rachel Paslay.
The set consultant is David Sackeroff, a former Hollywood production designer whose long list of credits includes Home Improvement, The Jamie Foxx Show, Sabrina the Teenage Witch, Dr. Science, and the pilot for Seinfeld.
The master carpenter for Dwarfman is Scott Williams (Ret. I.A.T.S.E.#16), builder of L.C.C.'s Globe Theater replica. During his long career, he has built sets for Las Vegas shows, ballets, and the San Francisco Opera, as well as a mile of freeway for The Matrix.
The cartoon art created for the play is by Juan Fierro, who was born in Ecuador, lived in Eugene as a child and now lives in Virginia.
Director Roberts says, "At its heart, Dwarfman is about an artist who needs to escape the onus of his own public success. Playwright Weller injects the struggle with hilarity."