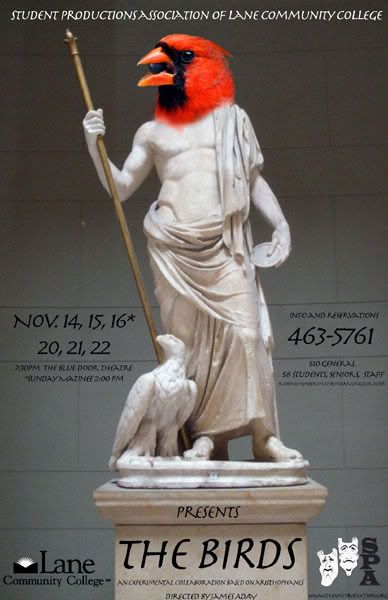 Aristophanes'
The Birds
was first performed in spring of 414 BC, and has remained a favorite through the ages. It has been called many things: an escape to Utopia, a play for peace, a political commentary, and always a comedy.
The Birds
, not to be confused with Alfred Hitchcock's film, is much like an ancient Greek Saturday Night Live.
Historically
The Birds
parodies and lampoons the local, popular culture and politics, and throughout the years has been adapted to fit which ever era it was produced in. Lane's production will be no exception with bawdy references to present day pop figures and political controversies.
As part of an experimental collaboration, Lane Community College Student Productions Association's production of
The Birds
is directed by James Aday. Cast members have had their own creative hand in making the masks, which they will be wearing on stage. The technical design and construction is completely student generated and executed.
The Birds
opens Friday November 14th, and runs for two weekends with shows on the 15th, 20th, 21st, and 22nd. The show begins at 8pm. The November 16th matinée will begin at 2:00pm.
Tickets are $10 for general admission, and $8 for students, seniors, and staff.
Due to its bawdy and irreverent nature no children under the age of 13 will be admitted.
For reservations or ticket information call (541) 463-5761.