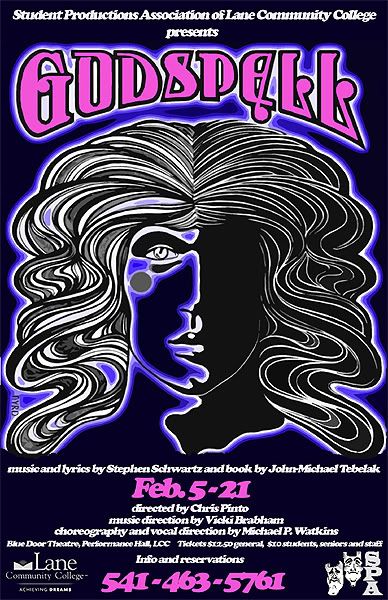 Coming to Lane Community College just in time for the end of the cold and dreary winter is GODSPELL, one of the most famous Broadway musicals of all time. Student Productions Association presents GODSPELL at Lane Community College, February 5-7, 12-15, 19-21. Performances are at 8 PM with a Sunday matinee at 2 PM, February 15. Tickets are $12.50 general and $10 for students, staff, and seniors. Advanced reservations are recommended.
For ticket reservations, call the box office at 463-5761, or buy tickets online at www.lanecc.edu/tickets
For this SPA production of GODSPELL, director Chris Pinto chose to give the characters some undeniably humble beginnings. The show is set on bleak city streets, where Jesus befriends 12 homeless individuals. In the course of the show, the group comes together to form a community. Prostitutes, drug-addicts, and general miscreants, they are the rejects of society; exactly the kind of people that Jesus would befriend.
The show depicts the adult life of Jesus Christ: His baptism by John the Baptist, the selection of His 12 apostles, and His inevitable betrayal by his most dedicated follower, Judas Iscariot. However, the show also stands for a more universal concept: When the world looks bleak, when we are down and out, when times are rough and when we are
hungry and poor, the only thing to do is to focus on building your community and do what you can to help your fellow man.
With its positive message, GODSPELL, based on the gospel according to St. Matthew, is an up-beat show featuring pantomime, improvisation, charades, and vaudeville. Everybody involved in the play brings something to the table: thier own creativity! When people see it on stage, they're really seeing an intense collaboration between director
and cast.
Scored by Stephen Schwartz, GODSPELL is probably best know for the international hit, "Day By Day," which reached
#13
on the Billboard pop singles chart in 1972.
GODSPELL is directed by Chris Pinto, who was last seen on stage in the VLT's Stage Left production of GLENGARY GLEN ROSS and directed the VLT's FUNNY MONEY, ON THE RAZZLE, and the SPA's BUYING TIME and HOT' L BALTIMORE. Music director is Vikki Brabham, who has appeared in many musical theater shows and concerts including shows at Lane Community College and the Very Little Theater, and with the Eugene Concert Choir. She is also a veteran member of OFAM's Emerald City Jazz Kings.The dance is choreographed by Michael Watkins, who has acted and directed in Eugene for almost 20 years. He has recently appeared in ROCKY HORROR and OR NOT TO BE, and has directed numerous shows around town including HAIR, FORTINBRAS and PICASSO AT THE LAPIN AGILE.